Lentils are small round, oval, or heart-shaped beans. They are sold whole or split in halves.
Different types of lentils offer varying consultancies. Green or brown lentils ratio their shape better after cooking while other red-orange and yellow lentils become soft and mushy. Brown lentils are quicker to cook than other types of lentils and don't require soaking beforehand.

Lentils do not significantly differ in nutritional content from common beans. They are a good source of protein, folic acid, and dietary fiber. They also contain many trace minerals.
Lentils support digestive & heart health and blood sugar control.
Once cooked, lentils can be stored in the refrigerator for up to three days.
A single serving equals 30g (2-3 tablespoons)
Nutritional information (per 100g):
Energy:                                            1473kJ
Protein:                                             24.6g
Carbohydrate:                                  63g
of which total sugar:                         2g
Total fat:                                            1g
of which saturated fat:                      0.2g
of which monounsaturated fat:        0.2g
of which polyunsaturated fat:          0.5g
Cholesterol:                                     0mg
Dietary fiber:                                   10.7g
Total sodium:                                   6mg
TIPS FOR PREPARING:
Add 2-3 cups of boiled water or broth per 1 cup of dried lentils.  Lentils placed in boiling water will be easier to digest than those brought to the boil. Once the water boils, simmer with the lid on for 45-60 minutes (brown lentils) 30-45 minutes (green lentils) 20-30 units (red lentils).
SERVING IDEAS:
Baked lentils stuffed green peppers.
Salad: Lentils, oranges, and sweet peppers.
For complete protein: Wild brown rice, lentils, broccoli, and leeks.
Vegetable casserole dishes.
Lentil & vegetable soup with Moroccan spices.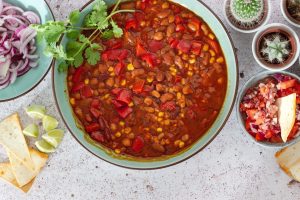 References:
Lipski, Elizabeth. Digestive Wellness: Strengthen the Immune System and Prevent Disease Through Healthy Digestion.
Murray & Pizzorno (2005). The Encyclopaedia of Healing Foods.