Mixed seeds are a great way to get in minerals like calcium, magnesium, phosphorus, manganese, and zinc. I buy a combination of brown linseeds, dehusked sesame seeds, sunflower seeds, and pumpkin seeds.
Seeds are coated so they need to be soaked or ground up for us to get the most nutritional value out of them. I grind up a cup at a time and keep them in the fridge ready to use for when I prepare meals.
A single serving equals 20g (2 tablespoons)
TYPICAL NUTRITIONAL INFORMATION (as packed)Single serving size =20g (approx. 2 tablespoons)
Per 100g        Per single serving
Energy (kJ)                                       2 379             476
Protein (g)                                        21.2                4.2
Glycaemic Carbohydrate (g)          .2                     0
of which total sugars (g).                 1.5                  0.3
Total fat (g)                                       49.3                9.9
of which Saturated fat (g)               5.8                   1.2
of which Trans fat (g)                      0.0                   0.0
of which Polyunsaturated fat (g).   25.8                  5.2
Dietary fibre (g)                              16.7                  3.3
Total Sodium (mg)                          26                     5
SERVING IDEAS:
Deliciously eaten raw or roasted.
Can be sprinkled into cereal, porridge.
Boost smoothies with minerals and fiber.
Over salads or cooked vegetables.
Use in baked goods like bread and muffins.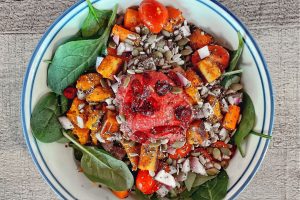 References:
Lipski, Elizabeth. Digestive Wellness: Strengthen the Immune System and Prevent Disease Through Healthy Digestion.
Murray & Pizzorno (2005). The Encyclopaedia of Healing Foods.