Nuts and seeds provide excellent human nutrition, being especially good sources of essential fatty acids, vitamin E, protein, and minerals. Nuts have been reported to support heart and brain health and are generally terrific for us.
Do you know which nutrients are found in nuts?  They are also the best source of arginine, an amino acid that plays an important role in wound healing, detoxification reactions, immune functions, and promotion of the secretion of several hormones, including insulin and growth hormone.
In addition to being eaten as snacks, nuts and can be added to many foods for their unique flavour.
And with the aid of a food processor, nut and seed butter can be prepared right at home. Most nuts and seeds have enough natural oils to make nut butter, but occasionally you may need to add some oil. Keep nut butter in airtight containers in the refrigerator, where they will usually keep for three to six months.
Nut milks and creams can also be made in a Nutribullet and then stored in the fridge for a week.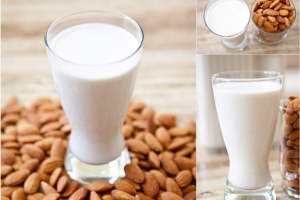 Since nuts and seeds, like grains and legumes, contain the essential factors for the plant to reproduce, they can also be sprouted. Sprouting is thought to not only increase the nutritional value but improve digestibility as well. Sprouting at home is quite easy for most nuts and seeds. All you need is a large glass jar or, better yet, a sprouting jar with different types of lids. After rinsing, place the item to be sprouted in the jar, and cover with water for 24 hours. You may need to rinse the item once or twice and recover with water. After the initial 24 hours, pour out the water, rinse, and allow the moist sprouts to sit in an area without direct sunlight. Rinse the sprouts twice daily. Once the item has sprouted (usually in one to three days), it can be placed in more direct sunlight, if desired. Most sprouts will be ready to eat one to two days after they have sprouted.
Almonds are an excellent source of monounsaturated and polyunsaturated oils, protein (20 percent), potassium, magnesium, calcium, iron, zinc, and vitamin E. Almond are also high in fiber.
Cashew nuts are a very good source of monounsaturated fats. They are also a good source of many minerals, including copper, magnesium, potassium, iron, and zinc.
Pecans are rich in fiber, healthy fats, and plant protein. They are a good source of vitamin A, vitamin E, calcium, potassium, and zinc. They can be eaten as a healthy, delicious snack or they can enhance almost any recipe as an ingredient.
Brazil nuts are the richest and most reliable food source of selenium.
Sources:
Murray, Michael T.,PIZZORNO, JOSEPH. The Encyclopedia of Healing Foods. Atria Books.
Lipski, Elizabeth. Digestive Wellness: Strengthen the Immune System and Prevent Disease Through Healthy Digestion, Fourth Edition McGraw-Hill Education.